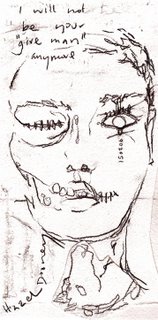 I Will Not Be Your Give Man Anymore

is a self-portrait cast within the anguish of a familial relationship. It echoes a voodoun 'curse' that turns its victim into a zombie, what Haitians call a 'give man', a mindless slave. The image can be downloaded free from my web site under a Creative Commons license, and can be reproduced and distributed in any way for any non-commercial purposes. For a high resolution file, just click here.
I think of this work as an unlimited edition print that can be obtained and reproduced by anyone anywhere. The sculptor, Robert Graham, came up with this idea back in the '90s and for a time, offered a few of his nude drawings from his site.
If you would like me to personalize the print with an original inscription and signature, all you have to do is send it to me (my address is on my web site), along with a return, self-addressed envelope and sufficient funds for airmail postage from Australia.