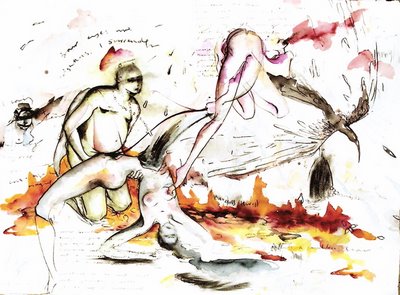 There are very few good art supplies stores in Sydney. The best of them never have the materials I'm looking for and the staff are clueless and rude. Worse, I have to drive for an hour to get to them.
Not anymore.
Last month, a new store called Art Depot opened in the beachside village where I live. At first, I avoided it. It's a little off the beaten track – to get there from the main street, you have to walk down an alley and find your way to the back of a second-hand clothing shop to a set of stairs – and I figured, given the philistine moneyed bourgeois that make up two-thirds of the local population, it'd cater mainly to enthusiastic amateurs and wouldn't stock anything I need.
Then, a couple of days ago, I had an emergency. I realised, just two hours before I was due to courier a pastel work to a collector, that I had no fixative. There was no other choice but to go to the new store.
It was like coming across an oasis in the middle of the Sahara. The space is large, quiet, open-plan and warehouse-like. Its owner, the artist, Leonie Barton has a studio set up in a corner, and there are aisles of simple timber shelving, many of them stocked with materials I have sought in vain for several years. There are my favourite paints, brushes and pastels, even Sennelier fixative – exactly what I wanted. As I browsed, Leonie came up to me and offered to research and order any specific requirements I had. I was dumbstruck. An art store offering genuine care and service to working artists - and at reasonable prices? Whatever would they think of next? I chatted with her for a short while, then, encouraged by a generous 'professional discount', I spent much more than I'd intended. I didn't mind a bit.
I used to send my assistant to buy supplies, armed with a long list, a credit card, and a mobile phone. From now on, I am going to go myself.